Senator Biden appeared on This Week with George Stephanopoulos to discuss the current situation in Iraq. ABC News is providing a free video of the segment on their website.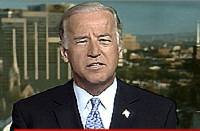 Although the President still insists on making optimistic projections, many democrats see the realty on the ground differently.
"I hope events unfold as he suggests, but I'm not yet there. I heard the president, for example, say that some Sunnis were in support of this," said Sen. Ron Wyden, D-Ore, on CNN's "Late Edition." "My sense is that there is a lot of opposition among Sunnis, that this is going to be a very heavy lift to bring them on board."

Added Sen. Joe Biden, D-Del., on NBC's "Meet the Press" [ed. note — this appearance was on This Week with George Stephanopoulos]: "They still have no concrete plan as to how we're going to proceed other than hope and pray that this constitution is accepted by the Iraqi people, which seems to me like a tough bet."
In his appearance, Senator Biden again called for the firing of Secretary Rumsfeld and offered a smart alternative to President Bush's "stay the course" no matter what strategy. From UPI:
Addressing the president directly, Biden said: The way to fix it is, first, get rid of Rumsfeld, so that the rest of the world will have some confidence and be willing to join us in any way politically or economically. Secondly, lay out specific terms, as to how many Iraqis you have train, when you are training them … and when you expect to be able to draw down American forces.