ACT TODAY!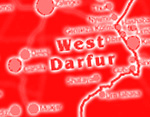 The Save Darfur Coalition has launched a Million Voices for Darfur campaign, an effort to raise awareness of the genocide taking place in Darfur and promote the actions necessary to end it.
The goal of the Million Voices for Darfur campaign is to generate one million hand-written and electronic postcards from Americans demanding a stronger and more effective U.S. response.
Click here to help
The following Op-Ed from Senator Biden appeared in the Baltimore Sun today addressing the continuing genocide in the Darfur region of Sudan. Please read this and then visit www.SaveDarfur.org to see how you can help.
U.S. must act now to end genocide in Sudan
By Joseph R. Biden Jr.
February 9, 2006
In the Darfur region of Sudan, a methodical and relentless genocide has taken place.
Since the terror began in early 2004, 180,000 to 400,000 Sudanese people have been killed and more than 2 million displaced by their government's systematic campaign to eliminate the non-Arab and African tribal groups of Darfur.
Today, acts of genocide continue, and the security situation in Darfur has degenerated so badly that the United Nations and international aid agencies have dramatically scaled back operations in certain areas.
But there is reason to hope.
Last week, the United Nations, prodded by the United States, agreed to send a peacekeeping force to Darfur to take over a valiant but ineffective monitoring mission run by the African Union (AU). This is good news. But U.N. officials acknowledge it could take up to a year to deploy any U.N. forces - assuming member countries volunteer troops. That is simply not soon enough.
We can and should do better. NATO forces can be a bridge between the current AU mission - 7,000 soldiers strong - and any future U.N. mission.
NATO is already helping the AU with airlift support and training. We should increase NATO's presence by deploying a few thousand NATO troops to work side by side with AU forces. Adding NATO's experience and expertise to the AU effort would quickly improve security, save lives and allow thousands of refugees to return to their homes.
The presence of NATO forces would deliver an unequivocal message to the Sudanese government that the international community is committed to ending the violence. NATO troops could also effectively enforce a no-fly zone over Darfur and eliminate the threat of aerial bombardment of innocent men, women and children by Khartoum.
In order for NATO to act, a NATO member must step up and take the lead within the alliance. The United States should make it clear that we are prepared to take the political lead at NATO and willing to contribute U.S. troops to a NATO mission if need be.
In the 1990s, we failed to confront genocide in Rwanda. But we did act in Bosnia, and then in Kosovo, to stop ethnic cleansing. Neither mission was popular. But President Bill Clinton took decisive action because the consequences of inaction were simply too high: We could not stand by and allow Yugoslav President Slobodan Milosevic and his thugs to fill up more mass graves.
Today, we should not watch from a distance as the conflict in Darfur spins further out of control.
By systematically abusing its own people, the Sudanese government has ceded its sovereignty, and the plight of the victims is now the concern of every civilized society.
Darfur's desolate terrain may not be of much value to America's larger strategic interests. But the mass killing of innocent men, women and children should provoke our moral outrage.
By acting now, we can help prevent the worst moments of the last century from repeating themselves in this new one.